Subscribe to STEM-Announce by filling out the following form. You will be sent email requesting confirmation, to prevent others from gratuitously subscribing you. This is a private list, which means that the list of members is not available to non-members.
The Roanoke Blacksburg Technology Council (RBTC.tech) sponsors local STEM initiatives, groups and events all over the SW VA region.
How the [STEM-Announce] Calendar/Mail List Works
This [STEM-Announce] email list is a read-only announcements list that gathers input from the community driven NextThreeDays.com STEM event listings + local STEM leadership postings. It roughly works like this:
1) Someone who wishes to advertise a regional STEM related event, goes to www.NextThreeDays.com and enters their event listing, flagging it as a "[✓] STEM events"..
2) After being approved by NTD, the event is auto-pushed to our SWVA STEM Events calendar.
3) The STEM event is then auto-pushed to this RBTC [STEM-Announce] mail list, going out to all subscribers.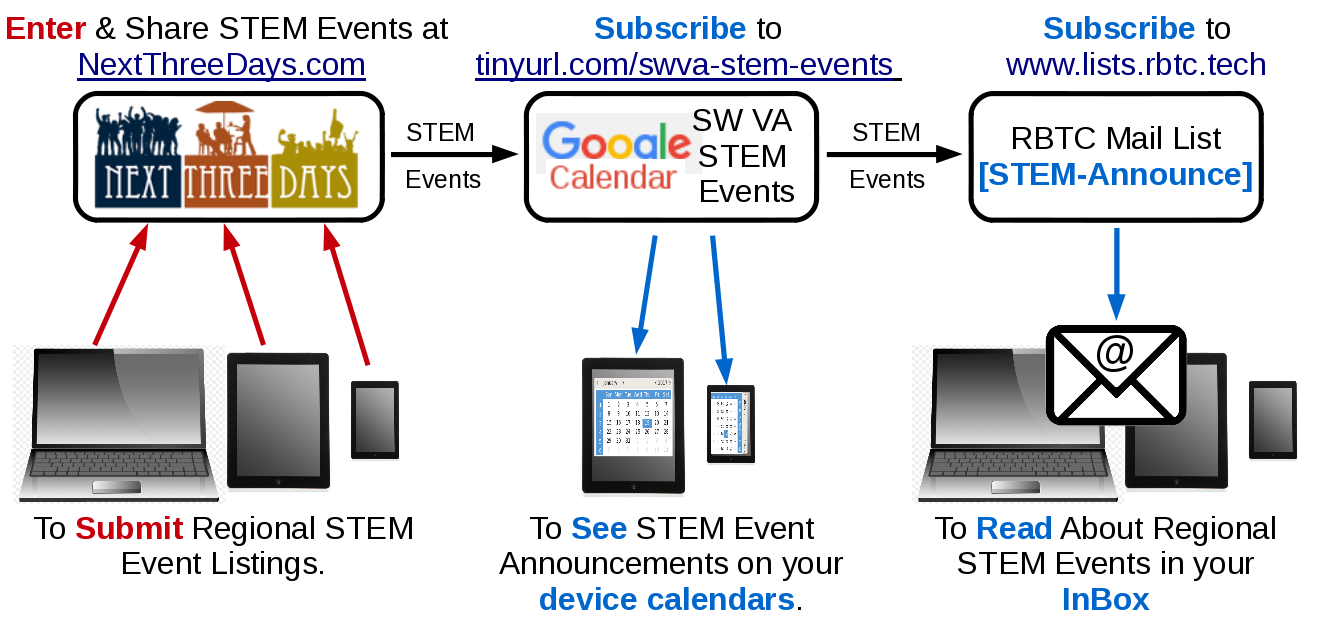 NextThreeDays.com
SW VA STEM Events Calendar
[STEM-Announce]
NOTE: If you would like to submit or announce a regional STEM event, then
post the STEM event listings to NextThreeDays.com, flag it as a "[✓] STEM events" entry,
and if approved it should be auto-posted to the SW VA STEM Events google calendar,
which is also mirrored here to this announcements mail list.
How To Subscribe To This [STEM-Announce] Mail List
To subscribe to this mail list, simply scroll to the top of this page and sign up.

If you prefer to have STEM events pop up in your PC/device calendar instead of your in box, you can also/alternatively subscribe to the google calendar itself. (see below)




Here is the actual calendar that NextThreeDays pushes to, and which this mail list gets its listings from:


To add this calendar to your own device, click on the "+ Google Calendar" in the calendar above.



Discussing STEM With Others
Alternatively, besides this announcement (read) only list, we also have an unmoderated STEM discussion mail list called [STEM-Discuss] where anyone can share STEM related info, ask questions about STEM, talk to regional STEM leaders, or just connect with other STEM-minded people in your area. That open/discussion list located is at lists.rbtc.tech/mailman/listinfo/stem-discuss .

STEM announcement postings (on this list) should be non-product related STEM events in our South Western VA region.

For more information on these mail lists, see this RBTC blog post on the topic.

To see the collection of prior postings to the list, visit the STEM-Announce Archives.



To post a message to all the list members, simply go to www.NextThreeDays.com, create your STEM event entry, flag it as a "[✓] STEM events" and if approved (can take a couple of days) it should appear on both the calendar (above) and be sent to all [STEM-Announce] subscribers. stem-announce@lists.rbtc.tech.

You can subscribe to the list, or change your existing subscription, in the sections below.